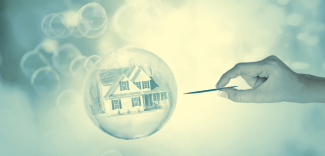 Are We in A Housing Bubble? It's Not an Easy Answer
Over the last year or so, we've received many questions about the residential real estate market. We've all seen housing prices skyrocket for several reasons, including demand, supply chain issues, etc. When it comes to real estate, the main question we get is, "Are we in a housing bubble?" While we don't have a definitive answer, we do understand the spirit of the question.
Let's talk through what we see in the market and what that may mean for you.
Over the last couple of years, you may have experienced, or at least observed, a significant appreciation in real estate, especially in residential housing. There are many factors that are contributing to this trend. Buyers have more flexibility to work from home, we see low interest rates, and there is low supply, to name a few. Here in our community of Lake Norman, we're seeing instances where people put their homes on the market and quickly receive above the asking price with some regularity. That's not normal, and it's not the kind of thing we anticipate will continue. It also doesn't necessarily mean we're going to crash out. That said, nothing is off the table, and certainly, anything is possible.
However, we do not see the kinds of things we saw 10-15 years ago when we went through a similar sort of inflationary space with the housing market that led to the 2008 crash. There were some other factors involved at that time that are not factors today, thankfully. This doesn't mean we will see a retraction.
If you're on the buy-side of things, be mindful about not overpaying. That's a subjective kind of idea, whether you are over or underpaying, but you want to be aware of that. Especially when you look at a potential real estate purchase as it relates to your overall financial plan.
What happens in the coming months and years will depend on many factors. The pace of new construction, waning demand versus more homeowners willing to sell, the status of the supply chain, and the strength of the economy, to name a few.
Bottom line, it's essential to have a good handle on your financial space and understand what is happening in your community. It's always a good idea to rely on your trusted financial and real estate advisors for information as well.
If you have questions about your financial strategy or investing in real estate, call us at (704) 987-1425 or visit us at www.northmainfinancial.com. If you wish to schedule an introductory meeting, we would be happy to meet with you at no cost or obligation to you.
You may also be interested in the following articles:
Stocks, Bonds, Real Estate…What Should I Be Investing In? Help!
Three Things to Understand About The Asset Allocation In Your Portfolio
These Blogs are provided for informational purposes only and should not be construed as investment advice. Any opinions or forecasts contained herein reflect the subjective judgments and assumptions of the authors only and do not necessarily reflect the views of SagePoint Financial.