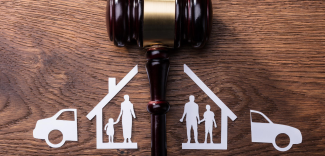 Are You Financially Prepared For a Divorce?
The emotional and psychological effects of divorce are far reaching. But what about the financial aspect of a divorce? People are usually not financially prepared for a divorce. For a couple getting divorced, there are many considerations when it comes to finances including children, assets, debt, the list goes on. Every situation is unique, but we've outlined a few big-picture ideas for you to reflect on if you find yourself experiencing this major life event.
Take an inventory.
It's important to take an inventory to know where things are at. It can be challenging to do, especially if the other spouse was in charge of the financial assets. In the best ways you can, pull a list together outlining where things are as far as your finances are concerned.
Create a new budget.
Start to formulate where your new budget might be. That's going to be different for everybody because everybody's circumstances are different. To the best of your ability, start to formulate the obligations which are yours and how you're going to be able to address them.
Reach out to some experts.
This can't be stressed enough. Reach out to experts who have gone through this many, many times and know what to expect. There are experts such as legal, financial, and tax advisors that deal with divorce as part of their profession and can provide you with insight to your specific situation. There can be a lot going on during a divorce so getting perspective from an expert(s) can be a big help.
If you have questions about your financial goals or would like to talk with us further about our services, give us a call at (704) 987-1425 or visit us at www.northmainfinancial.com. If you wish to schedule an introductory meeting, we would be happy to meet with you at no cost or obligation to you.
You may also be interested in the following article:
Tackle an Unexpected Life Event by Stopping to Breathe
These Blogs are provided for informational purposes only and should not be construed as investment advice. Any opinions or forecasts contained herein reflect the subjective judgments and assumptions of the authors only and do not necessarily reflect the views of SagePoint Financial.