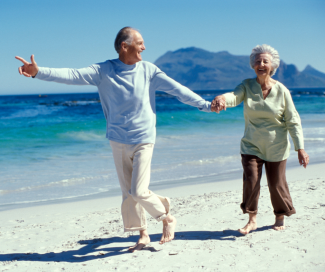 Be Ready For Retirement When You Reach Your Magic Age
Retirement means different things to different people. Perhaps you may be transitioning from a full-time career to part-time work. Or maybe you have plans to spend more time with family, travel the world, or hit the golf course with more frequency. Point is, you need to outline what a happy and fulfilling retirement looks like for you…and everybody is different! That said, how do you financially prepare for retirement?
Typically, you are looking at retirement with an extended time frame in mind. If you aren't 50, 60, 65 and thinking about or already in retirement, the things outlined in this blog can impact you at least from a thought process. If you are younger, you have the benefit of time and may be able to tweak some things to your advantage.
For some of you, your kids are out of college and financially independent. So, this may be the first time you've been able to think about retirement and what it looks like. Folks later in their career, for example late 50's (wanting to retire at 60/65), can make some adjustments but by enlarge, the course has already been charted and it's a function of making decisions more in retirement rather than before retirement.
At North Main Financial, we look at retirement not as a stop point but rather a pivot to a new season of life. According to the U.S. Census Bureau, the average retirement age in the United States is about 63. However, at age 63, that's considered early retirement when talking about Social Security and Medicare benefits. So, what should you be thinking about when preparing for retirement? Here's our three-point sermon:
Income Sources
Income sources include any means by which you have money coming in. It's important to understand your income sources. If you are in a more formal professional space, either you work for an employer or are self-employed, you have an income source which is derived from an employer or business source. In addition to your formal/professional space, you have income which can be derived from other sources. This income is going to replace the professional income that you have today. When planning for retirement, you should look at how your income will shift.
This is going to be different for each one of us. If you are employed by an employer you may have a 401K, 403B or other kinds of retirement savings plans. While we are seeing fewer of them, you may even have a pension. If you are approaching 60, 62 or 65, you may be ready to receive social security income and you may also be thinking about working part time in retirement. At North Main Financial, we are seeing more and more people who are doing this. Today, retirement is not so much a stop point as it is a pivot to a new season of life. While you are no longer working in the formal, professional space, you may be working part-time in addition to additional income sources like retirement accounts.
Cobbling the pieces together then understanding what your income will look like in retirement is key. It's often helpful to sit with a financial planner who can help you map out what your financial needs will be in retirement then evaluate your income sources to make sure you are meeting those needs. One additional thought, you also need to understand the time frames. Some sources of income may last for the duration of your life while others may run out.
Insurances
Insurance might be one of the most difficult topics as nobody wants to pay for it yet, we all need some type of insurance. But what kinds of insurance do you have in place for retirement? What do you need? What will it cost? Does your coverage continue, or do you need to add some coverage? Again, all questions that you can start thinking about in advance of retirement and when developing your plan.
Health insurance is the one most people think about first. You may have the opportunity to buy health insurance from your employer when you become of retirement age, but we are seeing that less and less of this. Often people will need to secure their own health insurance in retirement. This may mean a shift in providers so make sure you understand your policy and the costs and parameters. If you are at age 65, know what your supplemental Medicare insurance policies may be.
The second type of insurance to think about is life insurance. Life insurance is one of those items that can be unique. Once you are in a space where your portfolio, pension income, or other means of income are providing coverage for you in retirement, your need may be reduced dramatically or eliminated altogether.
There are other reasons to carry life insurance including, but not limited to, charitable giving or legacy-type situations. All of this is appropriate but it's likely that your life insurance needs are going to shift, if not be reduced in retirement. You may no longer be caring for dependents or need to replace your professional income for the interest of a spouse or others. Make sure you take inventory of the insurance you currently have and then plan for what your needs will be in retirement.
Long-Term Plan
We are living longer and longer. In fact, the CDC (Centers for Disease Control and Prevention) cites that the average American life expectancy in 2016 was 78 years old. That's up two years from 2000. As we live longer, retirement also looks different. There are folks looking at second careers in their 60's!
It can be very easy to think about retirement as a line in the sand. It used to be that once an individual reached retirement age after working in a mill or factory for their formidable working years, they were done. They were spent physically and mentally and just stopped working. Today, some people may spend as much time in formal retirement as they did in their working space. There are some folks who are living in retirement for 30-20 years. Why is this important? As our society shifts, and retirement shifts, you need to look at your retirement plan as a long-term play.
Extended retirement can affect your investments. You also need to consider the buying power of your income – dollars may not have the same buying power down the road as they do today. You should also think about long-term care needs. Make sure you have the means to address your needs for a decade or two into retirement. Having a healthy financial plan once you are in your retirement space is important.
Conclusion
Retirement looks different today than it did 20 years ago. Gone are the days where you retire after 40 years with a pension, a gold watch and spend your remaining years with family and friends. For many people, retirement is a pivot into their second season of life and in some cases, they tackle a whole new career. Make sure you are prepared for the long-haul when it comes to retirement.
Understand your income sources and the time frames associated with them. Know what insurances are necessary and not necessary and plan for medical care as you move into your later years. Lastly, have a long-term plan. Don't look at retirement as a few years, look at your retirement at five years, a decade and possibly even a second decade. While this can be overwhelming, a financial planner can help you navigate these waters to make sure you live your happiest and most fulfilling retirement.
Interested in hearing more about this topic? You can listen to the full episode of the North Main Financial radio show on WSIC by clicking here: Getting Ready to Retire (3/2/19)
If you have questions about your financial goals, or would like to talk with us further about our services, give us a call at (704) 987-1425 or visit us at www.northmainfinancial.com. If you wish to schedule an introductory meeting, we would be happy to meet with you at no cost or obligation to you.
These Blogs are provided for informational purposes only and should not be construed as investment advice. Any opinions or forecasts contained herein reflect the subjective judgments and assumptions of the authors only and do not necessarily reflect the views of SagePoint Financial.