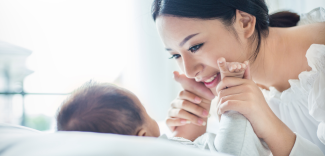 Congratulations on Your New Baby! Here Are Three Financial Planning Things to Do Now.
Here at North Main Financial Group, we've celebrated the arrival of many newborns with our clients over the years. There are few things more fun than the birth of a new baby into a family. But along with the pictures and cuteness overload, there should also be consideration for financial planning.
When it comes to newborns and financial planning, we're not just talking the cost of diapers and starting a college fund. While these are important, and certainly the diapers are an immediate financial need, there are other financial considerations that can sometimes get overlooked in the excitement.
Once you and your baby have settled in, here are three financial planning things to do now, that will benefit you in the long run.
Take a look at your life insurance coverage.
This is especially true when we're talking about your first child. With the birth of your first child, you are moving from a space of two adults to three people. The third person, your newborn, is completely dependent upon you in many ways including financially. This puts a vastly different spin on your life insurance equation. You want to make sure that you have the appropriate amount of life insurance for your situation.
Review your beneficiary designations.
It's not the kind of thing that people consider doing on a year-to-year basis, although that's a good rhythm to get into. If you don't do an annual review, you should definitely review your beneficiary designations upon the addition of a child to your family. You want to make sure your designations are in line with what you want them to be. This can apply to parents as well as grandparents, or other extended family.
A newborn cannot inherit directly.
We're going to repeat this. A newborn, or minor, cannot inherit directly. We see this with clients where they have children listed as direct beneficiaries on life insurance, retirement accounts, and other kinds of holdings but that child would not be able to inherit directly. To that end, there would probably be provisions made through the orphan's court to set up a trust.
However, you can do this in advance to make sure your child is taken care of in the best ways possible. While it's a lot to think about during a remarkably busy time, it's important to plan in the event the unthinkable were to happen.
A new baby is certainly something to be celebrated but remember to take the time to do some financial planning now, so you are prepared for the future.
If you have questions about your financial goals or would like to talk with us further about our services, give us a call at (704) 987-1425 or visit us at www.northmainfinancial.com. If you wish to schedule an introductory meeting, we would be happy to meet with you at no cost or obligation to you.
You may also be interested in the following articles:
Estate Planning Best Practices – Three Things You Must Check Now
3 Considerations When Planning to Save for College
These Blogs are provided for informational purposes only and should not be construed as investment advice. Any opinions or forecasts contained herein reflect the subjective judgments and assumptions of the authors only and do not necessarily reflect the views of SagePoint Financial.