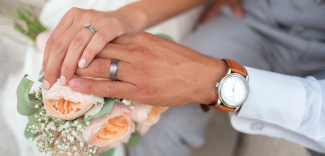 Congratulations You're Newlyweds…But Now You Have to Talk Money
Congratulations, you are now a newlywed but now you have to talk money. What does that look like? How do you merge your finances?
We always look forward to sitting with newlyweds here at North Main Financial. It's such an honor to go through the excitement and enjoyment of that occasion with each couple. Of course, we also talk about planning. Those plans can take on several looks but most specifically, here at North Main Financial, we are looking at financial plans.
Everybody's situation is different, but we try to offer perspective on how our clients can look at their finances ongoing. Here are a few things to keep in mind if you are a newlywed or looking to get married soon.
Look at where your debt is.
It's not a fun topic to discuss but you need to look at where your debt is. Most often, especially with newlyweds, we are looking at student loan debt. A few key points - is it manageable? Are you able to work it into your budget (because now you have two possibilities of student loan debt)? How does it fit into your overall plan? Lastly, are there any refinance possibilities and does that make sense for you? Look at your debt and make sure that it's manageable especially as it relates to your income.
Take a look at your budget.
Look at your overall budget. Make sure your living space, vehicle space, student loan debt, etc. are fitting well within your budget. Sometimes as newlyweds it's not possible but work hard towards a goal of expanding the amount of monthly discretionary income you have. Meaning, expand the amount of money you don't have an immediate obligation for. This can be challenging but is a goal you should try to work towards.
Get a plan.
It's important to get a plan together. It can be a modest plan, a straightforward plan if you will. This plan should outline your goals and objectives from a short and long-term perspective as far as your financial universe goes. Once you have a plan you can tweak it, but only when it's reasonable for you.
If you have questions about your financial goals or would like to talk with us further about our services, give us a call at (704) 987-1425 or visit us at www.northmainfinancial.com. If you wish to schedule an introductory meeting, we would be happy to meet with you at no cost or obligation to you.
You may also be interested in the following articles:
How to Balance Student Loans and Retirement
Help, How Do I Get Started with Financial Planning?
These Blogs are provided for informational purposes only and should not be construed as investment advice. Any opinions or forecasts contained herein reflect the subjective judgments and assumptions of the authors only and do not necessarily reflect the views of SagePoint Financial.