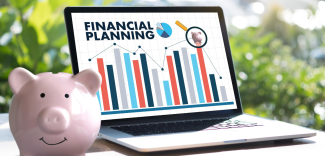 Help, How Do I Get Started With Financial Planning?
One of the questions we receive a lot at North Main Financial Group is, "How do I get started with financial planning?" That's usually followed up with questions about 401Ks, investing in the stock market, saving for college, insurance needs…the list goes on. It's a big, broad question which can't be answered in a few hundred words here. However, there are a few things to think about as you think about putting a financial plan in place and possibly consider consulting with a financial advisor.
Identify your goals.
It's a little cliché but identifying your goals is the foundation for a sound financial plan. Why do you want to engage in financial planning? What's sitting out there that you want to achieve? Are you looking to save for retirement, college, a big expense down the road, or perhaps you just want to increase your portfolio? There are a number of reasons you would want to consider a financial plan. Write those reasons down and you have the start of your list of goals.
Get a process.
Whether you are working with an advisor or doing it on your own, you want to have a process in place. Utilize the tools that are available to you to help you achieve your goal(s).
Monitor and adjust, but only if necessary.
This is a very important point to keep in mind. Sometimes when markets are volatile like they are right now, you may think you need to immediately change your financial plan. While that may be true, more often than not, it isn't. Take a moment to review your plan and recognize whether you are still keeping with your goals, desires, and risk tolerances. From there, you may or may not determine you need to make adjustments.
If you have questions about your financial goals or would like to talk with us further about our services, give us a call at (704) 987-1425 or visit us at www.northmainfinancial.com. If you wish to schedule an introductory meeting, we would be happy to meet with you at no cost or obligation to you.
You may also be interested in the following article:
It's Scary Contacting A Financial Advisor For The First Time
These Blogs are provided for informational purposes only and should not be construed as investment advice. Any opinions or forecasts contained herein reflect the subjective judgments and assumptions of the authors only and do not necessarily reflect the views of SagePoint Financial.