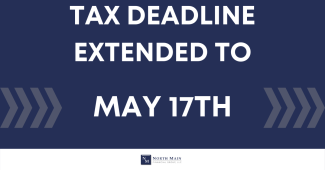 IRS Announces Extension to File Tax Returns
As you may have heard, the Internal Revenue Service (IRS) and Treasury Department announced that the deadline for filing individual federal taxes for tax year 2020 has been extended to May 17, 2021.  You do not need to request this extension, it is automatic.
It's worth noting that this deadline does not apply to the estimated tax payments due on April 15, 2021. Also, it does not apply to state tax payments.
One last note with regards to Texas, Oklahoma and Louisiana. Earlier this year, FEMA announced that the tax deadline was extended to June 15, 2021 for residents in these three states as part of the relief efforts for the victims of the February winter storms. This extension is not affected by the new May 17th deadline.
We will continue to keep you updated with further developments. As always, please feel free to reach out to us at any time to chat further – we always enjoy hearing from you!
If you have questions about your financial goals or would like to talk with us further about our services, give us a call at (704) 987-1425 or visit us at www.northmainfinancial.com. If you wish to schedule an introductory meeting, we would be happy to meet with you at no cost or obligation to you.
You may also be interested in the following articles:
What You Can Do Now to Prepare for Tax Season
Financial Planning Under a New Administration: Three Things to Do Now
These Blogs are provided for informational purposes only and should not be construed as investment advice. Any opinions or forecasts contained herein reflect the subjective judgments and assumptions of the authors only and do not necessarily reflect the views of SagePoint Financial.