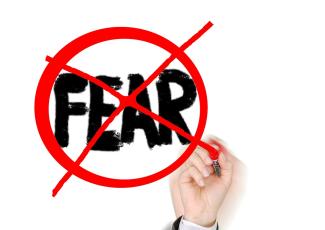 It's Scary Contacting A Financial Advisor For The First Time
Money, it brings joy and it can bring pain and it's typically a topic that is uncomfortable to discuss with those close to you, let alone a stranger. In fact, we would lob finances in with topics like spirituality and health as some of the most sensitive decisions we make. However, as you move through life, your financial goals and options can get more complicated and you may find it necessary to consult a financial advisor. A financial advisor can help guide you on how to save, invest and grow your money to help meet your goals and needs. But it's scary to pick up that phone for the first time. So, what can you expect when making that initial contact with a financial advisor? Let us help ease your concerns.
Identify A Financial Advisor
The first order of business is to find a financial advisor who can meet your needs. So how should you identify the right financial advisor for you?
Get a referral. Consult a friend or family member who you know and trust.
Do your own search. In today's information age it's relatively easy to do a search for financial advisors in your area. You will be able to look at things like resumes, history and services to determine if their resources are a match for your needs.
Introductory Meeting
Once you've identified a financial advisor to meet your needs, it can be intimidating to pick up the phone or send that email for the first time. At North Main Financial we are very sensitive to that knowing that sometimes an initial phone call or email is the first big hurdle for folks to cross. Once you make the initial contact, an introductory meeting will be scheduled.
At North Main Financial, we use the first meeting as a chance to get to know you. We understand that no two families occupy the same financial space. Each person has a different history, needs, desires, and dreams. We focus on what your goals are and develop a tailored plan to meet your needs. We don't use templates. While we will ask questions about how much you make, what are you currently doing with your financial resources, and your plans and desires for the balance of your life, we are more focused on learning about you.
What You Should Bring To The First Meeting
When you first meet with a financial advisor there are a few items to have on hand. In addition to your finances, write down a list of your goals. Whether you are saving for retirement, college, to buy a house, or anything in between, your goals are an important piece to the puzzle. Your goals are the backbone of your financial plan and allow us to put the right pieces in place to help you succeed. It's also acceptable to write down a list of questions you may have. There is no question too small or too big.
Goals
Once you have identified your goals, at North Main Financial we would start to outline the process for meeting those goals. For example, let's look at saving for retirement. Retirement has a very different look today than it did 30-40 years ago. So much of today's economy is service related so retirement is extended. Some people are looking at retirement not as a stop point but rather a pivot point to that next season of their life. They want to do what they want to do instead of what they have to do. You may be asked questions like: Where do you see your career going? Where do you want to live in retirement? Will you be renting or owning? These questions help your financial advisor identify the type of lifestyle you want to save for after retirement.
Once we have all the parts laid out, we begin to put them together. Do the parts go together in terms of being able to achieve the goals you have described? What is the three, five, seven, and 10+ year outlook? From here, your financial roadmap begins to take shape.
However…
The process of helping set your financial goals is an intimidating but exciting process. You start to see how your money can work better for you and what your future could look like with a little planning today. However, one thing we don't shy away from at North Main Financial is the obligation to tell you if your plan won't work. At least as it pertains to the nuts and bolts we see and the goals that have been described by you to us. This is a big part of the process.
We plan conservatively. We plan for things to not always go well and we plan for things to not go in a straight line. We look at creating "slush" to account for those times things don't go your way. We want to position you, so you can absorb the inevitable ebbs and flows of what happens around us, both in the stock market and economically. Remember, it's much more important to hedge or protect better on the downside than it is to capture all the upside.
Conclusion
In summary, the thought of contacting a financial advisor shouldn't be a scary one. Financial advisors aren't the monsters lurking under your bed. Rather, financial advisors are here to guide and encourage you on your path to reaching your short-term and long-term goals. The key to the whole process is finding a financial advisor that can meet your needs and one that you can trust.
Interested in hearing more about this topic? You can listen to the full episode of the North Main Financial radio show on WSIC by clicking here: Episode 8-11-18.
If you have questions or would like to talk with us further about our services, give us a call at (704) 987-1425 or visit us at www.northmainfinancial.com. If you wish to schedule an introductory meeting, we would be happy to meet with you at no cost or obligation to you.
These Blogs are provided for informational purposes only and should not be construed as investment advice. Any opinions or forecasts contained herein reflect the subjective judgments and assumptions of the authors only and do not necessarily reflect the views of SagePoint Financial.