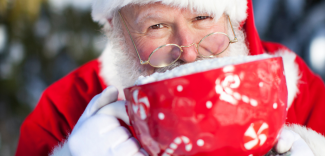 North Main Financial Partners with Cain Center for the Arts to Kick-Off The Holiday Season in Lake Norman
North Main Financial Partners with Cain Center for the Arts to Kick-Off
The Holiday Season in Lake Norman
Cornelius, NC (November 22, 2021) – North Main Financial Group has partnered with Cain Center for the Arts as the Presenting Sponsor, Family Friendly Special Events. The partnership kicks off this holiday season with two Santa-themed events here in Cornelius, NC. Kids can send their letters to Santa using Santa's Mailbox from November 29 – December 10, 2021. Then December 3rd and 4th, kids can cheers to the holiday season by having Cocoa with Santa. Both events are free and open to the public.
"We're thrilled to kick off the holiday season with two great family events as part of our partnership with Cain Center for the Arts," said Joshua Dobi, president, North Main Financial Group. "The holidays are about making memories, and we hope that writing letters to Santa and Cocoa with Santa will become a tradition that families will enjoy for years to come."
"We are so grateful to North Main Financial for being a part of the Cain Center's inaugural group of sponsors who have stepped up to support our programs," said Justin Dionne, executive director of the Cain Center for the Arts. "Not only are they helping to make our programs possible, they are making a statement that they support the arts in Lake Norman and want to see them succeed!"
Beginning November 29th and running through December 10th, kids can bring their letter for Santa to the Cornelius Arts Center (19725 Oak St., Suite 1) and drop it in Santa's mailbox where it will be delivered direct to the North Pole. Include a self-addressed, stamped envelope and Santa will write you back! You can also drop it off after regular business hours at the outdoor mail intake.
On December 3rd and 4th, from 10:00 AM – 12:00 PM, kids can enjoy an exciting morning filled with holiday arts and crafts, cookies, cocoa, and photo opportunities with Santa himself. Cocoa with Santa is a free event, but you will need to register in advance to attend. Visit www.cainarts.org/programs-2/events-schedule/ to register. Don't forget to bring your cameras!
###
About North Main Financial Group – A comprehensive investment management and financial planning firm committed to helping our clients pursue their financial goals. We offer a wide range of financial services to individuals, families, and business owners. For questions about our firm or the range of services we provide, visit us at www.northmainfinancial.com.
About Cain Center for the Arts - Cain Center for the Arts is committed to providing exceptional visual arts, performing arts, and social experiences to the Lake Norman Region. The non-profit organization is currently constructing an arts and community center in Downtown Cornelius with plans to open in Dec 2022. While under construction, Cain Center for the Arts is offering programs at the Cornelius Arts Center, located in the Historic Oak Street Mill. For more information, visit www.cainarts.org.