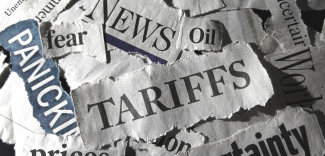 Should I Make Changes to My Portfolio Based on Tariffs?
A unique item that is happening in our macro economy, in terms of its impact and the headlines it has been generating, are tariffs. We receive a lot of questions about tariffs, especially those between the U.S. and China, and how they affect our economy and individual portfolios. Well, the not so popular answer is…it depends.
A tariff is a tax imposed by one country on imports or exports from another country. They are used to restrict imports by increasing the price of goods and services purchased from another country thus, making them less attractive to domestic consumers. Typically, governments impose tariffs to increase revenue, protect domestic industries, or to exert political leverage. Tariffs have a long and contentious history but are they good or bad for you and your portfolio?
There are several big factors that you want to keep in mind.
Understand the industries that are affected by the tariffs.
There are countless industries that are affected by tariffs such as automotive, tech, retail, agriculture, the list goes on. It's important to understand which industries are being directly affected by tariffs at that moment in history. Also note, there are tariffs in both directions between the U.S. and China as well as other countries.
What should you be watching now?
Tariffs are affecting several different industries in a number of different ways as this blog is being written. It's hard to be able to sift through the details but a couple of industries that have hit our radar – the technology and agricultural space. Does it mean a positive or negative for you? It depends on each individual situation. Try to understand, in the best ways that you can, how tariffs impact those industries and then perhaps holdings inside your portfolio.
This is a long-term perspective.
Understand this is a long-term perspective, especially from the Chinese side of things. They look at things over decades. Sometimes, here in the U.S., we're looking at things in seconds and minutes. While they are looking at things in a long-term perspective, I think it's important for us to do the same.
If you would like to look at your portfolio, perhaps your international exposure, and understand what impact tariffs have, we'd love to chat with you. Give us a call at (704) 987-1425 or visit us at NorthMainFinancial.com. If you wish to schedule an introductory meeting, we would be happy to meet with you at no cost or obligation to you.
You may also be interested in the following articles:
How Can a Presidential Election Impact Your Portfolio?
It's Taboo but Politics and Finance Need to Be Discussed
These Blogs are provided for informational purposes only and should not be construed as investment advice. Any opinions or forecasts contained herein reflect the subjective judgments and assumptions of the authors only and do not necessarily reflect the views of SagePoint Financial.