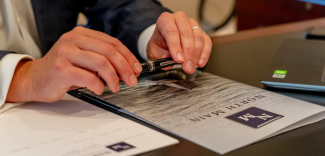 Three Important Things to Remember When Searching for a Financial Planner
We often hear about how challenging it can be to reach out to a financial planner, or financial advisor, for the first time. That feeling of uncertainty is understandable. Like visiting a doctor or lawyer for the first time, there is a lot of unknown, and you're talking about some personal stuff.
At North Main Financial, we are very sensitive to those feelings. If you have decided it's a good time to reach out to a financial planner for the first time, there are a few things we recommend you be on the lookout for. Here are three key things:
Find someone you like.
We mean that quite literally. It's a lot easier to do business with someone that you like. You aren't always going to click with everyone in terms of relationships, and that's okay. In life, we just naturally click easier with some folks over others. We strongly recommend finding a financial planner that you like.
Find someone you trust.
Trust goes deeper into a relationship, and it's hard to get there in terms of the first meeting or even the first couple of meetings. Along those same lines, you may want to find someone with experience. Look for someone who has seen good markets, down markets, and just about everything in between. That experience can be valuable.
Find someone who has invested in their profession.
We recommend finding someone who has invested in their profession. By this we mean, someone who has invested in licenses, certifications, and ongoing education. We think that's a crucial point because the things that are relevant today didn't exist when we opened our doors over a quarter-century ago. You want someone who is going to stay relevant. Not because we are ditching everything that has gone before us, but because we need to be aware of the context and the time frame in which we sit right now. That's very different from decades in the past.
If you have questions about your financial space, or are looking to work with a financial planner for the first time, give us a call at (704) 987-1425 or visit us at www.northmainfinancial.com. If you wish to schedule an introductory meeting, we would be happy to meet with you at no cost or obligation to you.
You may also be interested in the following articles:
These Blogs are provided for informational purposes only and should not be construed as investment advice. Any opinions or forecasts contained herein reflect the subjective judgments and assumptions of the authors only and do not necessarily reflect the views of SagePoint Financial.