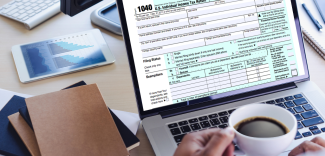 What You Can Do Now To Prepare For Tax Season
For many, the 2020 tax season will likely look quite different. Due to the COVID-19 pandemic, many Americans were temporarily out of work, unemployed, juggling multiple jobs, the list of financial twists and turns goes on. As we enter that time in the calendar year when we start thinking about tax-related topics, it becomes even more important to start organizing early.
It's not a fun topic for any of us but April will be here before you know it. So, what can you do now to prepare for the upcoming tax season? Here are a few thoughts:
Collect all your important documents.
January and February are a good time to begin collecting all your tax forms. Be on the lookout for your W-2 forms, 1099s, and any other tax related information you will need to complete your 2020 tax return. If you have investments, you may need to follow up with certain investment companies because they tend to be a bit behind as far as the distribution of those forms.
Additionally, start collecting documents such as your charitable contribution totals, property taxes, mortgage interest, and any other additional taxes you paid this year. If you had a side hustle, keep a record of your income, miles driven, and additional expenses. Also, if you were on unemployment, note that unemployment benefits are taxable and must be reported to the Internal Revenue Service (IRS).
If you're getting a refund, make sure you collect your documents promptly so you can file and get your refund as quickly as possible. Whether you fill out your taxes yourself, or use a professional, it's best to begin the process early and organize your documents to make filing easier.
If you're inclined, reach out to a tax advisor.
If you have any discomfort with doing your own taxes, or you have a lot of moving parts, we strongly recommend you reach out to a tax advisor, Certified Public Accountant, or accountant. A tax professional can be invaluable and can help you take advantage of possible deductions that weren't previously on your radar. If it applies to you, be sure to take advantage of reaching out to a professional.
Plan now if you're going to owe.
If you think you're going to owe come April 15th, plan for it now. You still have a little bit of a runway, a couple of months, before you may have to write that check to the IRS. From a budgetary or cash-flow standpoint, plan now for what you think you may owe so you don't get to the second week of April and have a 911 fire drill trying to pay that bill.
If you have questions about your financial goals or would like to talk with us further about our services, give us a call at (704) 987-1425 or visit us at www.northmainfinancial.com. If you wish to schedule an introductory meeting, we would be happy to meet with you at no cost or obligation to you.
You may also be interested in the following articles:
The Payroll Tax Holiday and What It Means For You
These Blogs are provided for informational purposes only and should not be construed as investment advice. Any opinions or forecasts contained herein reflect the subjective judgments and assumptions of the authors only and do not necessarily reflect the views of SagePoint Financial.