You are here

3 Point Process to Help Ease Anxiety in a Down Market
3 Point Process to Help Ease Anxiety in a Down Market
Submitted by North Main Financial Group, LLC on October 22nd, 2018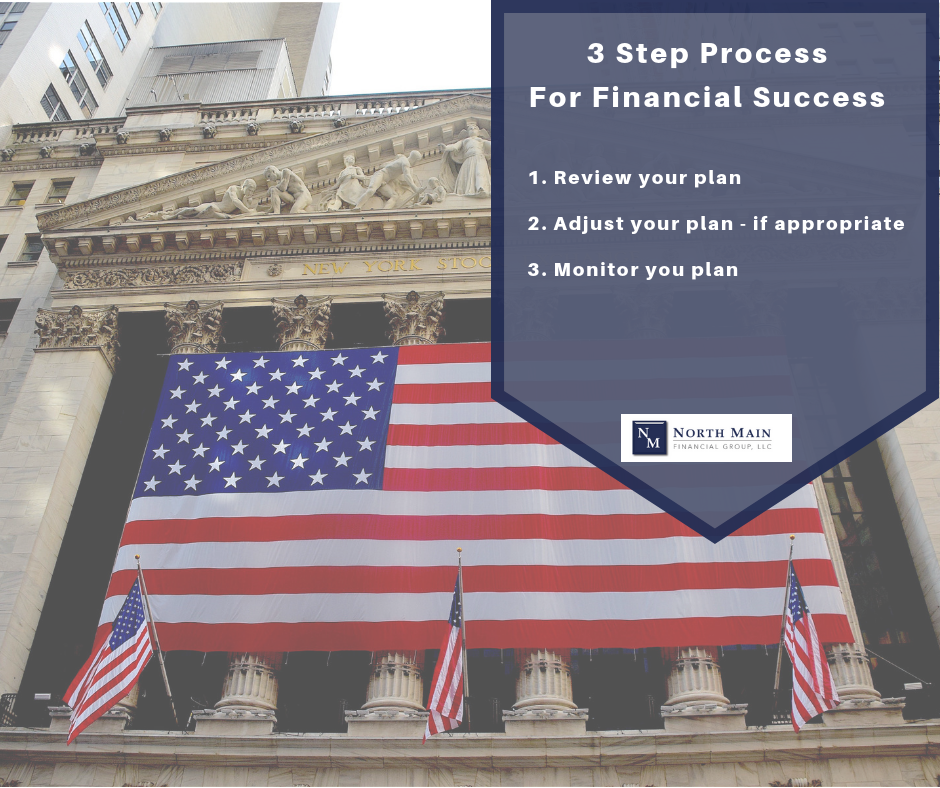 If you've been watching the stock market the last few weeks you're probably asking, "what is going on?" The stock market has had some movement that we haven't seen for several months and in some cases, years. It's been a rather tumultuous couple weeks and when that happens, it creates a certain amount of anxiety.
You may be looking at your 401K or portfolio balances and noticed they aren't doing so hot. When you see red brackets, you might be overcome with a cold sweat or uneasy feeling in the pit of your stomach and that's natural. While it's very natural to feel anxious about this, it's important to understand it in the context of history. Analyzing historical charts can be a helpful guide for interpreting future trends. Historically the market ebbs and flows which is why it might be time for pause, but not concern.
In today's world, maybe because of technology, we act like the natural ebb and flow of the market is a unique thing. And if you are a new investor or have a new portfolio, that's understandable. For folks that have been doing this for years, or decades, it's not new. All that said, the history of the stock market in no way predicts the current or future stock market direction, it's simply meant to be used as a guide.
So, what kind of steps should you take when these kinds of movements take place? At North Main Financial, we like to meet with our clients on a regular basis to make sure their financial plan is in step with their goals, risk tolerances and objectives. This includes looking at how the current market is affecting their financial plan.
When the market is up, people tend to get comfortable. They might not pay attention to where they are invested or allocated because it's going well. On the other hand, when the market has a negative downturn, folks start to realize they may have taken on too much risk or that their plan is not in line with their desires. This may lead to the decision to make some changes. When the market is down, that's a good time to sit down with your financial planner and make sure all the pieces of your individual puzzle are aligned.
At North Main Financial, when we're reviewing a client's space, we come at it in a structured way trying to take the emotion out of the process. If we let emotion drive us, often we will make decisions that are too short-term focused or would be inappropriate for a long-term plan. We try to remove that emotional impact from our thought process so we're not making rash decisions and following the crowd out of fear. We want to make decisions based upon an understanding of history and the facts about the people we are speaking to. To do that, we follow a simple three step process.
3 Point Process
Step 1 - Review Your Plan
Let's look at this in a global sense. Re-evaluate what you are trying to achieve. Saving for college, retirement, future expenses, drawing income if you are in retirement or semi-retirement, it's important to review your plan to make sure your plan continues to be in line with what your desires are. It's possible, as things are increasing, that you don't pay as much attention to your goals because things are going well. However, when things do pull back it can bring you back to a clearer picture about what it is you are trying to achieve.
For example, at North Main Financial we review each person's plan with them and look at the discussions we've had previously. We look at previously stated goals and objectives and update if it's necessary. Your goals, desires and objectives may shift over time and that's perfectly normal. Marriage, kids, age, work situation, all factor into how your financial planning can evolve over time.
Step 2 – Adjust Your Plan
That's not a directive but rather if there is need to do that, then make the necessary tweaks. Recognize that, because of reviewing your plan, you may come to the decision that you are in fact keeping with your goals, desires and risk tolerances and you decide keep things as is. Just as you can decide to adjust your plan, you can decide to stay the course. It might be counterintuitive but not necessarily so.
Nevertheless, you might need to make some changes. It's appropriate to do that so long as you are doing it for the right reasons. Making changes to simply make changes, or to chase what's "hot" now are not necessarily the right decisions. Additionally, making changes simply because of fright or concern in and of themselves are not appropriate enough reasons to make changes. It can become a very short-term emotional process so reach out to your trusted financial planner to help guide you through the process. Try to focus on objective facts and take it in the context of history, not that it's an indicator of what will happen going forward but it is a good indicator.
Step 3 – Monitor Your Plan
We've had an explosion of technology - web, iPhone, social media - so it's become very noisy and very challenging to navigate which data is appropriate, which data is applicable to you, and which data should be discarded as white noise to you. Consistently monitoring your plan tends to keep you a little more focused on your goals and decisions. You can have greater assurance that you are keeping with what your goal's and desires are.
Your intentions for your invested portfolio will probably change over time. As you are monitoring your plan, go back to the first two steps. Do so in ways that are systematic like quarterly or twice a year to establish a rhythm and something that works for you. It's always a good idea to establish this with your financial planner and stick to it.
In summary, sometimes when we have pull back in the market, that can be an instigator to move us to look at our plan and make sure it's on track. And while seeing red in the market can bring an anxious feeling, that's perfectly normal. Just try to take the emotion out of your decisions and look instead at history and objective facts. And as always, work with your financial planner and let them help guide you.
Investing is subject to risks including loss of principal invested. Past performance is not a guarantee of future results. No strategy can assure a profit nor protect against loss. Please note that individual situations can vary. Therefore, the information should be relied upon when coordinated with individual professional advice
Interested in hearing more about this topic? You can listen to the full episode of the North Main Financial radio show on WSIC by clicking here: Episode 10-11-18.
If you have questions or would like to talk with us further about our services, give us a call at (704) 987-1425 or visit us at www.northmainfinancial.com. If you wish to schedule an introductory meeting, we would be happy to meet with you at no cost or obligation to you.
These Blogs are provided for informational purposes only and should not be construed as investment advice. Any opinions or forecasts contained herein reflect the subjective judgments and assumptions of the authors only and do not necessarily reflect the views of SagePoint Financial.