You are here

Three Important Points to Help With Year End Planning
Three Important Points to Help With Year End Planning
Submitted by North Main Financial Group, LLC on December 14th, 2018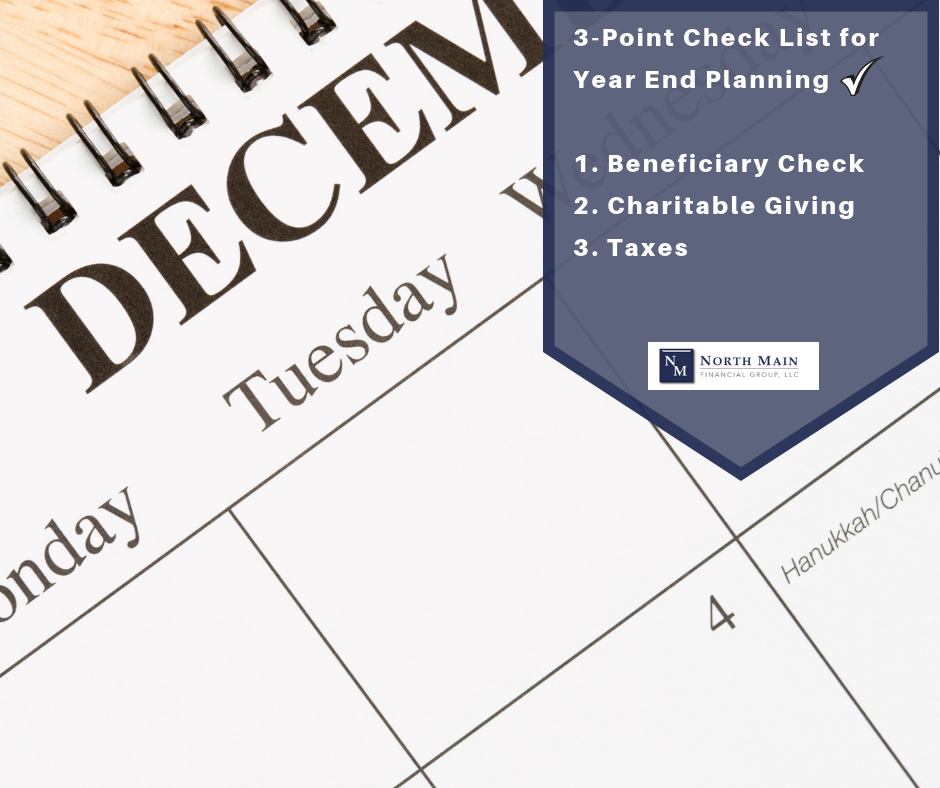 The end of the calendar year brings with it some requirements from a financial planning standpoint that are important to remember. At North Main Financial, we sit with our clients between the holidays to take care of things from a planning standpoint. Whether it be for charitable reasons, tax reasons or other calendar dependent kinds of things, it's to review your current financial space and plan ahead.
That said, we have a quick, three-point check list to give you some food for thought when it comes to year-end financial planning. This is not a comprehensive list, this is a partial list of things to keep in mind about calendar dependent items. Calendar dependent items are things we need to keep in mind when it comes to the end of the year. If you do not execute, or move on them, by January 1st of the following year they cannot count for the previous year. Let's take a look…
1. Beneficiary Check
The first item has to do with life insurance policies or your retirement accounts. Just broadly, at North Main Financial, we call it a beneficiary check. But what is that? Very simply, for life insurance policies, 401K, 403B, IRA's, any kind of retirement or any annuity account you have, you have designated, or it has been done for you, specific beneficiaries for each account. You have designated a spouse, children, a trust, or perhaps a charity. We recommend taking a minute, as you get close to year end, to double check who you have designated as beneficiaries.
Many of you know that open enrollment is the time which folks - mostly employed by medium to larger employers, or maybe some smaller employers - can re-evaluate your health insurance, disability insurance, life insurance and other benefits that may come to you from your employer. A beneficiary check may be something you can do at that same time. Take the time to double check who your beneficiaries are and review how they are named and what the percentages are. I don't need to tell you that life changes whether it's death, divorce, children that have grown up, things change. You may look at your beneficiaries and say, "it looks good," and that's fine.
It's important to look at that with regularity. I will tell you, at North Main Financial, we see clients that haven't looked at their beneficiary designations for years and in many instances whether it's due to death, divorce, life changes, job changes, the beneficiary designations are nothing like they want them to be. As a reminder, when you pass away, as the owner of that contract or retirement account, those beneficiary designations become irrevocable. Meaning that there is no opportunity short of some legal proceeding, which is rare, to change those beneficiaries.
2. Charitable Giving
The second thing to review is charitable giving. If you are inclined to give charitably and want to make donations to your church, the United Way, the Salvation Army, or to some other organization, perhaps a college or university, and you're wanting to do that in such a way where it can benefit you from a tax standpoint for this year then you need to do so before January 1st of this new year.
At North Main Financial we put a strategy in place for each of our clients for the entire year. However, if you are in a place with a job that you gain a significant amount of your income towards the end of the year, in the form of a bonus structure for example, you may have to make your charitable giving decisions very quickly about what, if any, charitable contributions you would like to make. We then need to move quickly to make sure all your dollars are allocated in a way that you desire. We recommend thinking about it in advance so if you are wanting to give to a 501C3 or tax-exempt organization, you can try to do it in a way that you aren't rushing around at the last minute.
Also, if you are looking to make a charitable donation, do so deliberately. It's hard for us, if we aren't working directly with a tax advisor or financial advisor, to estimate what the actual tax impact would be. You may want to run through a quasi-tax return, or fictitious tax return. Meaning if you were to give certain amounts to your designated charity(s), how it would impact you tax wise. That way, without doing a tax return you can see, based upon the other parts of your financial life, what each charitable amount would do to your tax base.
3. Taxes
I don't know about you, but I rarely hear someone say, "I wish we could pay more taxes." As financial advisors we need to ensure that as we are doing financial planning, we are considering the tax element of things. We need to understand the tax ramifications of what we are doing for each client. For example, one of the things we do with a high degree of regularity at North Main financial as we get into the time between Thanksgiving and Christmas is, we look at a strategy called lost harvesting.
With lost harvesting what we look at are opportunities where we may be able to sell securities at a loss. We then either take that as a capital loss relative to the tax impact for our clients, or we may be able to offset those capital losses with capital gains so there would not be any net tax owed or reducing the amount of net tax owed by our clients. This may or may not apply directly to you, so we strongly encourage you to reach out to your tax advisor or financial advisor to discuss your financial space to see if this strategy would apply to you. For us at North Main Financial, we are looking at this with regularity. When we are looking at an overall financial picture, we want to take this into account to make sure we aren't paying any more tax than is necessary.
As we approach December 31st, make sure to check your beneficiaries and look at your charitable inclinations, being mindful of that December 31st deadline. Also review your tax implications. All this can be done with your tax advisor or financial advisor and of course, if you need help, we are always here at North Main Financial to answer any questions you may have.
Interested in hearing more about this topic? You can listen to the full episode of the North Main Financial radio show on WSIC by clicking here: Year End Planning – 11-20-18.
If you have questions about how real estate fits into your financial goals, or would like to talk with us further about our services, give us a call at (704) 987-1425 or visit us at www.northmainfinancial.com. If you wish to schedule an introductory meeting, we would be happy to meet with you at no cost or obligation to you.
Neither SagePoint Financial, INC., nor its registered representatives or employees, provide tax or legal services.
These Blogs are provided for informational purposes only and should not be construed as investment advice. Any opinions or forecasts contained herein reflect the subjective judgments and assumptions of the authors only and do not necessarily reflect the views of SagePoint Financial.