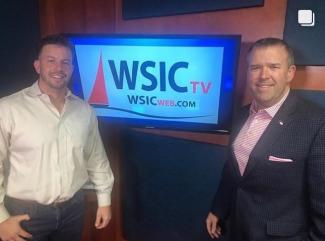 End-Of-Life Planning Is Not Fun, But It's Necessary
This topic may seem a little outside the norm, but I think you'll find very quickly that we give special attention to planning from many angles. While we focus on financial planning here at North Main Financial, we have also focused on end-of-life topics that are important for us to keep in mind. All of us have to deal with this at some point. You may currently be in a space with a loved one, friend, or family member where you are having to deal with end-of-life planning and/or decisions.
We spoke to Jonathan Kepner of the Raymer-Kepner Funeral Home in Huntersville, NC to gain a little insight into pre-planning a funeral and how it can be beneficial to you.
Joshua: You are in a business that is challenging, unique, and short of the good Lord coming back, all of us are going to go through it. While all of us are going to go through it and likely have had some experience with it, it's not the kind of thing that is often top-of-mind for discussion unless it should be. You've literally been in this business all your life. Talk about what it meant to grow up in a family where the funeral was and is the family business and how you grow into that.
Jonathan: I was born and raised in Wheeling, WV and that's where our funeral home started in 1902. Our business has been established since 1845. There was a two-generational family that had it and then my great-great-grandfather bought the Mendel funeral home in Wheeling, WV in 1902. I am a fifth generation and like you said, I grew up in it. I started washing cars when I was 14, 15 years old and started just helping out around the funeral homes, we have five small locations up there. As I got my drivers license, I started working the funerals driving the Hearst, driving the limo, and after mortuary school I was licensed and that's when I moved down here in 2012 and started helping out our family's firm.
Joshua: You mentioned something detail wise, you are the fifth generation in the Kepner family. We talk about small businesses and about transition of small business through sale or inheritance and in my experience, I very rarely, if ever, are talking with families who are at the fifth-generation level. Talk about that, that's an anomaly.
Jonathan: Growing up my whole life my Dad was very supportive of anything I did. He said look, we have a multi-generational family business if you want to look into getting into it, it's here and if not, we completely support whatever it is you decide to do. But I'm super, super proud to be a fifth generation, I have some pretty big shoes to fill starting with my grandfather because I didn't know my great-grandfather or my great-great-grandfather. It's an honor to be able to carry on this legacy that was started in 1902.
Joshua: Is there a challenge? You are literally working with your family every single day and sometimes that can be a challenge. I can't imagine going to work with my family every day.
Jonathan: Believe it or not my parents and I have a very unique and awesome relationship. We really enjoy the scheduling we have it really works out for us. And not only are my parents at the funeral home every day with me, but my wife is a licensed funeral director as well. It's just one big happy family meeting every day at work.
Joshua: That is the exception, Jonathan, and not the norm. Sometimes family members just can't get along from a professional standpoint or the next generation doesn't want to be part of the business. As you said, your father gave you open reign and didn't mandate that you had to be in the business but allowed you to grow into it on your own volition.
You're talking with folks constantly about some of the most challenging conversations they'll ever have. Talk about some of the challenges you have with the conversations you are having on a daily basis.
Jonathan: As far as losing a loved one, that's something that emotionally you cannot prepare for, there's no way. Even if it's a grandmother and she's 102-years-old and has lived the best life, you still, when you lose that loved one, you can't prepare for that emotionally. I'm talking to people daily, just going through hospice situations or there's tragic situations, you cannot prepare for whatever situation it is. Some people think that some situations are worse than others but losing a loved one is just something that's very hard and difficult to prepare for emotionally.
Joshua: So how do you stay on level with that. Literally, folks are rarely calling you with good news. It's usually a very raw time from an emotional standpoint. How do you deal with that on a day-to-day basis? Frankly, it seems like it's something you are either good at, or you're not. How do you keep on top of those things?
Jonathan: Like you said folks call in daily and it can somewhat be depressing. I'm human, and we're all human in this industry, and it can get a little depressing and emotional but I'm getting very good at when I leave work, I can turn it off. I've got some other hobbies, and I'm pretty good at turning it off along with my Dad and my wife.
As far as dealing with this every day with families, we try to focus on the family and not the situation. When I get that phone call my goal is to say okay, this is the situation and I'm here to walk you through this process step-by-step and get all your questions, all your wishes, whatever you all want to do, and I really focus on taking care of that family member versus the loved one that they lost. I really focus on how I'm going to get this family through the situation.
Joshua: That ability to be able to compartmentalize a little bit and doing the nuts and bolts but being there for folks and empathizing. We often work with folks in challenging spaces that get more challenging when folks pass away. Being on the financial end of things unfortunately, money always doesn't do good things going through high-level emotional kinds of spaces. We want to be empathetic but maintain the integrity of the situation.
Talk a little bit about pre-need planning. Folks can reach out to you from a pre-need standpoint meaning it doesn't have to be at the point where someone passes away. They can do some planning with you ahead of time for the service and other end-of-life situations. Talk about what that entails.
Jonathan: There's different ways we reach out to the community and we're trying to educate the community because we don't wake up every single day and say, 'let's go plan our funeral'. We'll have folks call us and say they would like to come in and get things in order, kind of take that first step. Not a lot of folks are comfortable with doing that, but we try to make it as comfortable as possible for them. Folks will come in and we walk them through what their final wishes are. The service isn't only for them, it's for the family so we take them through what they would like to happen – do you want cremation, do you want burial - it can get as detailed as what music they want played and what kind of flowers they want. So, we're trying to reach out to the community and have them realize it's not that bad of an idea to come in and at least start taking that step forward.
Joshua: It sounds like it can really be helpful for those that remain. There wouldn't be as many questions during an emotionally volatile time. You wouldn't need to make challenging decisions to try and guess what the deceased might have wanted.
We know that nobody wants to think about these end-of-life decisions but from a planning standpoint, it really makes sense. Estate, beneficiary and inheritance planning all the way to pre-need planning, provides peace of mind not only for you but for those that remain.
Jonathan, if you had a top two or three list for folks to keep in mind, what would that be?
Jonathan: I think the most important thing is taking that first initial step. Whether that's coming to the funeral home and just gathering information or sitting down and having a conversation, because there's different options when pre-planning. At our funeral home, we gather some information and keep in on file and we have your wishes down. You don't have to pre-pay but there is that option and it's an awesome option because what that does is, as far as pre-planning and pre-pay, it's going to take a huge load off the family when the time does come.
I think the most important thing is to take that initial first step and get some questions answered and get as much information as you can.
For more information on pre-planning, visit www.kepnerfh.com.
Interested in hearing more about this topic? You can listen to the full episode of the North Main Financial radio show on WSIC by clicking here: Raymer Kepner Funeral Home (4/27/19)
If you have questions about your financial goals, or would like to talk with us further about our services, give us a call at (704) 987-1425 or visit us at www.northmainfinancial.com. If you wish to schedule an introductory meeting, we would be happy to meet with you at no cost or obligation to you.
These Blogs are provided for informational purposes only and should not be construed as investment advice. Any opinions or forecasts contained herein reflect the subjective judgments and assumptions of the authors only and do not necessarily reflect the views of SagePoint Financial.