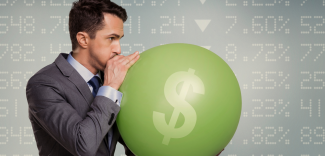 Inflation Is On The Rise, Here Are Three Things To Remember
Over the last few months, we've received a lot of questions about inflation. By definition inflation is the persistent increase in the level of consumer prices. The current annual inflation for the 12 months ending in May 2021 is 5%. That's up sharply from just a year ago.
You have probably noticed inflation when filling up your car at the gas pump or making a trip to the grocery store as it is costing you more. The idea of inflation hasn't been on our radar for the last dozen years or so, so we're all suffering from sticker shock right now. So, what are some things to know about inflation? Here are three key points:
It's not a runaway train.
The purchasing power of our dollars is going down but it's not something that happens overnight. For example, at the grocery store you may have seen a gradual increase in prices over the last year. Inflation generally happens over a period of time.
Price increases are not solely because of inflation.
You are probably seeing inflation hit parts of the economy like food and energy. Your wallet is probably a little lighter after filling up your gas tank or going to the grocery store. These high prices are not entirely a function of inflation. Due to COVID-19, there are things like supply chain issues, raw material shortages, and increased demand that factor into price increases. It's important to understand the variables that are factoring into inflation so you can make decisions moving forward.
Be mindful of your investment portfolio.
When it comes to your investment portfolio be mindful of the kinds of things you own. Check to see if you are in a space which may have a little bit higher inflation than we've had over the last decade or so. You may have owned things during that time that did very, very well. Double check to make sure those are the kinds of spaces that do well when inflation tends to tick up. Make sure you are properly diversified in the ways that you want to be.
If you have questions about inflation, or about your financial goals, give us a call at (704) 987-1425 or visit us at www.northmainfinancial.com. If you wish to schedule an introductory meeting, we would be happy to meet with you at no cost or obligation to you.
You may also be interested in the following articles:
How Should You Prepare For a Possible Capital Gains Tax Increase?
When Is The Best Time To Take Social Security?
These Blogs are provided for informational purposes only and should not be construed as investment advice. Any opinions or forecasts contained herein reflect the subjective judgments and assumptions of the authors only and do not necessarily reflect the views of SagePoint Financial.