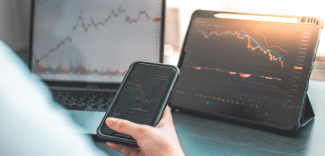 Down Markets Can Bring Opportunities, Here's What You Need to Know
Whenever the stock market goes down, people begin to ask about opportunities. For example, are there stocks to buy now because they are cheaper? The truth is everyone's space is different. Additionally, there are many reasons a stock pulls back in value, and that doesn't necessarily mean it will return to where they were.
When you're looking at your portfolio and analyzing the types of assets you want in it, you must understand what you already own. After that, you need to understand what the possibilities are, in the most agnostic way possible, going forward. It's human nature to get emotionally tied to things. If we find something we like, we want to hold on to it. Sometimes a little longer than we probably should. Stocks and assets are no different. While there is nothing inherently wrong with that trait, it can cloud judgment when looking at opportunities that are out there.
Sometimes it can help to have a third party, or someone with a dispassionate view of what you have, look at your portfolio. Having a third party like a financial planner or accountant give their best analysis in terms of what you hold and why you're holding it can provide a valuable perspective.
Simply holding onto something that is popular or cheap is not necessarily a good solution when looking at ways to increase your portfolio value over time. Then again, it might be a great opportunity. There are examples of things unnaturally decreasing in value that provides a great buying opportunity. A reputable company with excellent recurring earnings and opportunities to grow margins over time might be a good option. Especially if you're able to buy it on the cheap when the market is down.
Over the last five months, we've seen certain pockets of the market decreased in value. As it looks right now, they're going to stay down. These are scenarios to be aware of when making your decisions, and that's where a third party can help provide clarity.
If you have questions about the stock market and your portfolio, call us at (704) 987-1425 or visit us at www.northmainfinancial.com. If you wish to schedule an introductory meeting, we would be happy to meet with you at no cost or obligation.
You may also be interested in the following articles:
Are You Ready for A Financial Emergency? Here's What to Do Now.
There Is More Than One Way to Generate Retirement Income
These Blogs are provided for informational purposes only and should not be construed as investment advice. Any opinions or forecasts contained herein reflect the subjective judgments and assumptions of the authors only and do not necessarily reflect the views of SagePoint Financial.