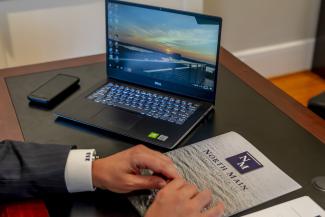 Overcoming Fear: A Guide to Consulting a Financial Advisor for the First Time
Introduction:
Discussing finances can be uncomfortable, making it daunting to seek advice from a financial advisor, especially if it's your first time. However, as life progresses and financial decisions become more complex, consulting a financial advisor becomes necessary. Never fear; the team at North Main Financial is here to help. This article aims to ease your concerns and guide you through the process of contacting and meeting with a financial advisor.
Identifying the Right Financial Advisor:
Finding the right financial advisor is essential. You can start by seeking referrals from trusted friends or family members. Alternatively, conduct an online search to explore advisors in your area. Evaluate their resumes, history, and services to determine if they align with your needs. Look for those with CFP (Certified Financial Planner) credentials, as it signifies their expertise, adherence to ethical standards, and commitment to providing comprehensive and reliable financial guidance. Additionally, check if the planner is a member of professional organizations, such as the Financial Planning Association (FPA) or the National Association of Personal Financial Advisors (NAPFA).
Fiduciary Duty:
Look for a financial planner who operates as a fiduciary. A Fiduciary is legally obligated to act in your best interests, ensuring that their advice and recommendations are always geared toward maximizing your financial well-being, free from conflicts of interest.
Transparent Fee Structure:
Understand the financial planner's fee structure upfront to avoid surprises later. Some planners charge a fee based on assets under management, while others may charge hourly fees or a flat rate. Be sure to inquire about any additional fees or commissions to make an informed decision.
Personal Rapport:
Building a strong working relationship with your financial planner is crucial for successful long-term collaboration. During initial meetings, assess how well you communicate with the planner and if they listen to your concerns and understand your goals. A comfortable and open working dynamic is essential for a successful partnership.
The Introductory Meeting:
Making the initial contact with a financial advisor may feel intimidating, but rest assured, at North main Financial we are considerate of your apprehensions. The introductory meeting is an opportunity for the advisor to get to know you personally. They will focus on your unique financial situation, history, goals, and dreams, ensuring a tailored plan is created for your needs. At North main Financial, we prioritize understanding your aspirations and do not rely on a one-size-fits-all template.
What to Bring to the First Meeting:
When meeting with a financial advisor, come prepared with your financial information and a list of your financial goals. Clearly state whether you are saving for retirement, college expenses, a new home, or other objectives. Writing down any questions you have is encouraged, as no query is too small or too big.
Setting Financial Goals:
Identifying your financial goals is a crucial step in the p process. For instance, if you are saving for retirement, it is essential to consider how today's retirement differs from the past and what lifestyle you envision during retirement. Your financial advisor will ask questions about your career plans, living arrangements, and other factors to create a comprehensive financial roadmap.
Comprehensive Financial Planning Process
Choose a financial planner who follows a comprehensive financial planning process that involves thorough analysis, goal setting, strategy development, and regular review and adjustments. This approach ensures that all aspects of your financial life are considered and integrated into a cohesive plan. At North Main Financial, we plan conservatively. Meaning we also account for potential challenges and uncertainties, creating a cushion to withstand market fluctuations and economic changes. Protecting against downside risks is a priority.
Conclusion:
Contacting a financial advisor doesn't need to be scary. We are not intimidating figures but trusted guides who will encourage you on your financial journey. Finding a financial advisor you can trust is key to the entire process. At North Main Financial, we are committed to understanding your unique needs and designing a plan tailored to your goals.
If you have questions about your financial space, feel free to call us at (704)987-1425 or visit our website at www.NorthMainFinancial.com. We offer introductory meetings at no cost or obligation to you, ensuring you find the right financial partner for your future.
These Blogs are provided for informational purposes only and should not be construed as investment advice. Any opinions or forecasts contained herein reflect the subjective judgments and assumptions of the authors only and do not necessarily reflect the views of SagePoint Financial.