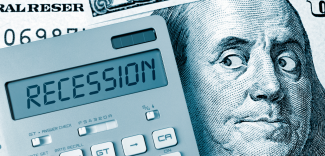 Preparing Your Finances for a Possible Recession: 3 Helpful Considerations
Recession is a word that is frequently heard in today's news cycle. That begs the question, are we headed for a recession? I'm going to give an answer that may shock you at first…yes. Before you panic, the answer is always yes because our economic system works in a cycle. We will never be absolved from recessions. There is a sense that there will always be a recession ahead of us.
So, what defines a recession? Economists define a recession as two or more back-to-back quarters of declining GDP. Some causes of a recession include high-interest rates, slower production of goods, less consumer demand, and high inflation, to name a few.
In the spirit of the question, we really want to know if it's a short distance ahead or further out. We can't predict what will happen in the future, especially in this unique time, but there are some things you can do now to get your house in order. When thinking about your overall financial plan, being prepared is the best way to tackle the beginning, middle, or end of a recession. Keeping in mind your financial space is different than anyone else, here are a few considerations.
Maintain financial flexibility.
You want your plan to be in a space where, regardless of what's happening economically, you have financial flexibility. Now, you can't always absorb everything that comes at you. However, you can give yourself some breathing room. The decisions you make every day have a direct impact on your financial space, and over time, the little things add up.
You always want to build as much financial flexibility into your plan as possible. If the unexpected arises, and you lose your job or a recession hits, etc., you can absorb it and maintain the space where you are.
Keep a long-term perspective.
It can be hard to do this. It's difficult to look at the long-term when things are challenging, but it's important to keep that long-term perspective so you can make good decisions today. Those good decisions will benefit you at some point in the future. For example, when thinking about investments, look at the trends over a period of time. Don't make decisions based on this very moment in time.
Build in slush.
Make sure you have built-in slush for yourself so you have an emergency fund to access. If you go through times that are unexpected, an emergency fund helps to get you to the other side without impacting your long-term financial plan in a negative way. Using a budget can help with this.
Recessions are a natural part of the economic cycle and are bound to occur from time to time. While we cannot predict the future, we can take steps to prepare ourselves. Maintaining financial flexibility, keeping a long-term perspective, and building an emergency fund are just a few ways you can set yourself up for success. By being proactive and taking these steps, you can navigate the ups and downs of the economy with greater ease.
If you have questions or need assistance with your financial plan, North Main Financial is always here to help. Give us a call at (704) 987-1425 or visit us at www.northmainfinancial.com to schedule an introductory meeting. We would be happy to meet with you at no cost or obligation to you.
You may also be interested in the following articles:
Three Things to Consider When Hiring a Financial Planner
Social Security Benefits Set to Increase in 2023
These Blogs are provided for informational purposes only and should not be construed as investment advice. Any opinions or forecasts contained herein reflect the subjective judgments and assumptions of the authors only and do not necessarily reflect the views of SagePoint Financial.