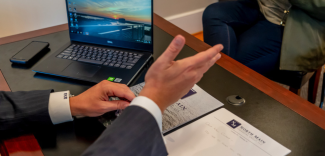 Three Things to Consider When Hiring a Financial Planner
For many people, the start of a new year means new financial goals, which can mean hiring a financial planner. When sitting down with a new client for the first time, we ask them how they came to find us, and very often, the answer is by referral or a personal relationship with someone who is already a client. We also have conversations with people who aren't yet clients and often ask, "What things should we keep in mind when looking for a financial advisor?"
There are a lot of variables when it comes to hiring a financial planner. Every person is different, and every advisor is different. The key is finding an advisor that can help you reach your financial goals and someone who you are comfortable with and can trust.
If you are in the market for a financial advisor, here are a few things to consider during your search.
Find someone whom you mesh with personally.
This doesn't have anything to do with math or numbers. When you find someone whom you mesh with, it's a lot easier in terms of a professional relationship. Talk to people you know, family, friends, and business associates, and get a few recommendations. Schedule time to speak with a few financial planners to get a sense of who they are and whether you mesh with them. Trusting your financial planner is an important part of the process, and that personal relationship is the beginning of that trust.
Make sure you compare.
It's okay to shop around. There are a lot of advisors out there. Compare their styles and their emphasis points. Are they more holistic and comprehensive, or are they more narrow in terms of their focus? How is success measured when it comes to each client? How frequently do they communicate with their clients? The list of comparisons goes on. Create a list of questions, then gather answers to each question so you can make the best decision possible for your situation. You should also be prepared to discuss your specific needs so you can find the best fit for you.
Understand the cost structure.
How does an advisor get compensated? Like any professional relationship, there will be fees involved, so you need to understand how they are compensated. Understanding this from the start is important so you don't get surprised down the road. A good financial advisor will be upfront, let you know how they are compensated, and tell you what to expect from the relationship moving forward.
If you have questions about your financial goals or would like to talk with us further about our services, give us a call at (704) 987-1425 or visit us at www.northmainfinancial.com. If you wish to schedule an introductory meeting, we would be happy to meet with you at no cost or obligation to you.
You may also be interested in the following articles:
Down Markets Can Bring Opportunities, Here's What You Need to Know
Are You Ready for A Financial Emergency? Here's What to Do Now.
These Blogs are provided for informational purposes only and should not be construed as investment advice. Any opinions or forecasts contained herein reflect the subjective judgments and assumptions of the authors only and do not necessarily reflect the views of SagePoint Financial.