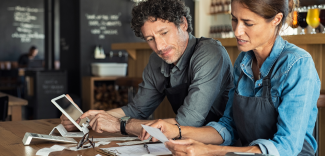 Three Ways Small Business Owners Can Stay Fiscally Responsible
If you are a small business owner, you wear a lot of hats. You take on the role of many departments like HR, accounting, travel, IT, and of course, finance. So, when you own your own business, or are self-employed, what are the priorities? What are things you should keep in mind when it comes to being a small business owner when it comes to being fiscally prudent?
There are dozens of factors that go into finances for a small business. From a planning perspective, we've outlined three ways small business owners can stay fiscally responsible.
Maintain a healthy cash position.
The first thing you want to do is maintain a healthy cash position. That may seem obvious but here at North Main Financial we talk to business owners all the time who are living really close to the edge from a cash-flow standpoint.
You want to work hard to build up an emergency fund. Similar to what you might have personally. Be sure you have enough cash to absorb the normal ebbs and flows of running a business.
There are specific retirement plans available to you.
You have opportunities as a self-employed person, or the owner of a small business, for certain types of retirement plans that may not be available to you if you're an employee of a large corporation. There is some flexibility if you're looking to set aside tax advantage dollars for retirement.
Definitely take a look at all the options that are available to you. It may be worth consulting a financial or tax advisor to help identify those opportunities.
Make sure your insurances are covering all your risk points.
This is a comprehensive idea and there are a lot of different points to it. Make sure your insurances are covering all your risk points. This covers everything from life insurance to liability insurance. And depending upon your industry, you may have industry-specific insurances that you need to keep in place. It's always a good idea to consult with an insurance agent to sort through all the various options.
If you have questions about your financial goals or would like to talk with us further about our services, give us a call at (704) 987-1425 or visit us at www.northmainfinancial.com. If you wish to schedule an introductory meeting, we would be happy to meet with you at no cost or obligation to you.
You may also be interested in the following articles:
What You Can Do Now to Prepare for Tax Season
Financial Planning Under a New Administration: Three Things to Do Now
These Blogs are provided for informational purposes only and should not be construed as investment advice. Any opinions or forecasts contained herein reflect the subjective judgments and assumptions of the authors only and do not necessarily reflect the views of SagePoint Financial.