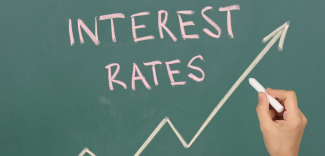 What Does an Interest Rate Hike Mean for My Finances?
You may soon be seeing the interest rate for your savings account increase, as well as a larger interest charge on your credit card bill in 2022. So, what exactly is going on? Recently, we've been getting more questions from clients and prospective clients about the actions of the Federal Reserve Board. Translation, what are they going to do about interest rates?
We understand the spirit of the question. People are wondering if interest rates will go up, and ultimately, what does that mean for them? The answer to this question is complex and comprehensive, and we can't answer it completely in this blog, but here are a few thoughts.
Interest rates are likely to go up.
As of the writing of this blog, the Federal Reserve Board has indicated they're going to make several increases in 2022. These increases will come in what we describe as the overnight lending rate. The central bank sets the federal funds rate, which is the overnight interest rate at which banks borrow from one another. The federal funds rate influences the prime interest rate, which is what lenders use to determine how much interest you'll pay. When the federal funds rate goes up, the prime interest rate tends to follow. The result is banks will charge more interest on credit cards, mortgages, and other loans.
What does history tell us?
An interest rate hike is noteworthy because we haven't been in this kind of environment for more than a decade. You would need to look back before the 2008 economic crisis to see interest rates above where we are today. We've already started to see increases in some of the secondary trading markets. In fact, the market is anticipating we're going to have several increases in the overnight lending rate. So, be prepared.
What does it mean for you?
What does an interest rate hike mean for you? It means we're probably going to see increases in interest rates, mortgage rates, lines of credit, and those kinds of variable rates. In fact, we're already starting to see it. Something we may also see down the road is an increase in savings, money market, and CD rates. While these increases are welcome, they tend to lag a bit behind the initial interest rate hike.
To prepare for an increase in the interest rate, you may want to consider things like refinancing your home loan, refinancing your private student loans, and paying down your credit card. To reiterate, the Federal Reserve hasn't done anything yet, but it's always good to be aware of what might be coming down the pike.
If you have questions about the budgetary impacts an interest rate hike would have on your financial space, give us a call at (704) 987-1425 or visit us at www.northmainfinancial.com. If you wish to schedule an introductory meeting, we would be happy to meet with you at no cost or obligation.
You may also be interested in the following articles:
A Few Simple Ways to Be Proactive About Reducing Your Taxable Income
There Is More Than One Way to Generate Retirement Income
These Blogs are provided for informational purposes only and should not be construed as investment advice. Any opinions or forecasts contained herein reflect the subjective judgments and assumptions of the authors only and do not necessarily reflect the views of SagePoint Financial.
Ready or not, tax season is here! As you begin your tax preparation, here are three helpful tips to ease the anxiety of tax season.