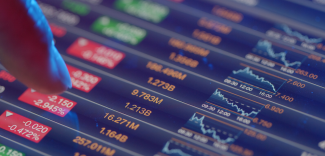 There Can Be Opportunity In Red Arrows
In recent months, the ups and downs of the stock market might feel more like a roller coaster ride which is enough to upset anyone's stomach. While we are all looking for those green arrows, there can be opportunity in the red arrows. In fact, when we're going through times of extreme stock market movements we are often asked, 'how do I invest in a down market?" There is no blanket answer to that as everyone's situation is unique. However, here are a couple points you may want to keep in mind:
Volatile markets happen.
We don't have to look extremely far into our history to understand there have been extreme market movements, both positive and negative, during the entire history of the stock market. Even though it feels new, and like we're going through it for the first time, that has never been the case. When we look at the history it gives us a bearing and understanding in recognizing the cyclicality of the markets. Not just what's happening in that moment.
Take a look at your overall plan.
If you are continuing to invest in the market it may be an opportunity to buy more of your long-term holdings at cheaper prices. It's just a math equation and everyone's situation is unique so it may not necessarily be applicable to you. It may be worth a moment of pause to determine what would be best for your specific situation.
Don't react to near-term movements in the market.
This is especially important! Whether you're in retirement, before retirement, or just starting out, reacting to near-term movements in the market is not a plan. When you do that you frequently end up looking at buying high and selling low. This isn't anyone's best-laid plan. Review your plan and consult with your financial advisor so you get some good advice along the way.
If you have questions about your financial goals or would like to talk with us further about our services, give us a call at (704) 987-1425 or visit us at www.northmainfinancial.com. If you wish to schedule an introductory meeting, we would be happy to meet with you at no cost or obligation to you.
These Blogs are provided for informational purposes only and should not be construed as investment advice. Any opinions or forecasts contained herein reflect the subjective judgments and assumptions of the authors only and do not necessarily reflect the views of SagePoint Financial.