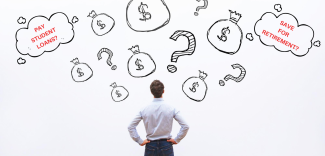 How To Balance Student Loans and Retirement
As we work with younger clients here at North Main Financial Group on their financial planning, there is one question that comes up with frequency. What should you do in terms of combining the ideas of paying down student loan debt and saving for retirement? The answer is simple, it depends.
Every person has their own financial story and thus, the answer will vary based on your individual situation. This is a conversation we have a lot and consulting an advisor is a great way to gain some perspective and to help you set your financial goals and objectives. One is not inclusive or exclusive of the other. The key is to find the right balance for your financial space.
That said, here are three things to keep in mind:
Look at student loans overall.
The first thing you want to do is look at your student loans overall. How much do you owe? What interest rates are you paying on them? Are any of them deferred, or maybe there are deferral or forgiveness possibilities with them? You want to get a good handle on where things are as far as the current structure.
What are the refinance possibilities?
If you are paying higher than market interest rates on your student loans, look into the refinance possibilities. There are several avenues you can investigate to make sure you are paying the most efficient, or lowest amount of interest possible.
You may want to do a hybrid.
It is possible that you may want to do a hybrid of paying down your student loan debt while also saving for retirement. It doesn't have to be a 0 or 100 idea where you are just doing one or the other. It comes down to planning and your specific situation. This includes things like looking at your current income, expenses, financial goals, etc.
If you have questions about your financial goals or would like to talk with us further about our services, give us a call at (704) 987-1425 or visit us at  https://www.northmainfinancial.com/contact. If you wish to schedule an introductory meeting, we would be happy to meet with you at no cost or obligation to you.
You may also be interested in the following articles:
It's Scary Contacting A Financial Advisor For The First Time
Help, How Do I Get Started With Financial Planning?
These Blogs are provided for informational purposes only and should not be construed as investment advice. Any opinions or forecasts contained herein reflect the subjective judgments and assumptions of the authors only and do not necessarily reflect the views of SagePoint Financial.